Welcome to the home page of Sierra West Bernese Mountain Dog Club. We hope you find our information useful and helpful!
Sierra West BMDC was founded in 1989 to further the sport of dog showing, to educate its members on the breed and to promote good sportsmanship and responsible dog ownership in all areas.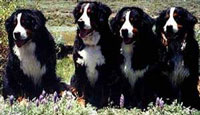 We hold a variety of social, competitive and informational events throughout the year.
The club is a recognized regional club by the Bernese Mountain Dog Club of America and the American Kennel Club.

Most of our membership is concentrated in the Northern California region, but we have members in other states and countries. Although we primarily serve the East Bay Counties of Alameda, Contra Costa and Santa Clara, there are no geographic restrictions to membership. We welcome everyone interested in celebrating and preserving this great breed.