Conformation is the sport of showing your dog as a representative of its breed, to be judged by its physical characteristics and presentation. Most of us are familiar with the Westminster Kennel Club show held each year in New York; this is a conformation show.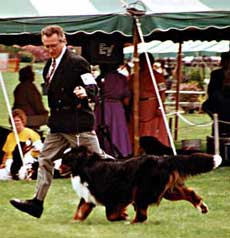 Conformation has often been called a beauty contest, but it is much, much more. Dogs that compete in conformation compete against each other and are judged against the breed Standard. Each breed has a "Standard" which is a detailed description of structure, temperament and movement of the breed. Dogs are judged against the breed Standard, and the winning dog is the one the judge thinks most closely represents perfection, as described in the Standard on that given day among the dogs present at the show. In order to achieve a conformation championship, dogs must win 15 points under a number of different judges. The amount of points a dog wins at each show depends on the number of dogs competing that day.
If you have purchased a show quality puppy, chances are you will be entering the dog show world. Your BMD puppy can enter his first AKC show at 6 mos. At 3 to 6 months you can enter he/she in matches. No points are awarded at these shows, but it is good practice for both dog and handler. This can be a great socializing experience for your puppy. It is a good idea to have attended a few handling classes with the puppy before entering the dog in an AKC show. Part of conformation is the presentation of the dog, so both you and your puppy need to learn how to do this. Your breeder can help, fellow club members are available to get you started, and if you have classes in your area, that also is a good way to begin. Sierra West has many members who show their dogs and they are always willing to be of help to the beginning novice.
Another good way to get the feel for showing your dog is to go to local dog shows and watch, listen and ask questions. If you decide that you want to show your dog but do not want to handle him in the ring, you can hire a professional handler to show your dog for you. To find a handler, you should talk to others at shows, watch handlers in the ring and ask your breeder for suggestions. There are also professional organizations for handlers, and they can provide you with handlers in your area.
Sierra West and its members are dedicated to educating the new puppy owners. During the year we have many opportunities for you to learn from members about conformation and showing your dog. If you have a puppy you decide to show, we hope you will join us and become an active member.
For a more detailed explanation of the dog show world, check out the AKC's Beginner's Guide to Dog Shows at www.akc.org/Begnshws.htm