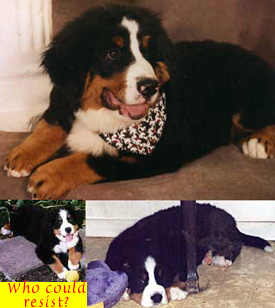 So you're interested in buying a dog. You've decided that you have the time and dedication it takes to raise and train an energetic, nippy, destructive puppy to become a well-mannered dog. Have you asked yourself why? For companionship, for activities, for showing, for breeding?
Answers to these and other questions can help in your selection of both a breed and a breeder. Widely recognized around the world as a draft dog, the Bernese Mountain Dog (BMD) pulled carts laden with dairy products, produce and baskets, and also performed other farm tasks such as droving cattle and protecting the farm from unwelcome intruders.
Today BMDs compete in draft, agility, obedience, tracking and herding, as well as conformation, but are also used as search and rescue dogs and therapy dogs to visit hospitals and nursing homes.
Most of all, the BMD enjoys being an appreciated member of the family. Left to his own devices, a bored 100-plus pound Berner can be quite destructive. But well trained and properly exercised, he's a loving and adoring companion. He's no lawn ornament; he longs to be with his family as much as possible.
Health issues are always a consideration. In each pure breed, diseases may occur that are specific to that breed. Some of these are inherited diseases, some are acquired, and with others it is not known whether they are inherited or not.
Your careful selection of a responsible breeder can reduce the chances that your puppy will be affected. Like most large breeds, some Bernese suffer from various orthopedic abnormalities. The most commonly known ones are Canine Hip Dysplasia (CHD) and Elbow Dysplasia (ED). Assessing the hips and elbows of prospective breeding pairs (using radiographs) and selecting only animals with normal hips and elbows for breeding increases the chance that their puppies will also be normal.
To find out what to look for in conscientious breeders, click here.
The Orthopedic Foundation for Animals (OFA) evaluates X-rays of dogs over the age of 2 years; the Institute for Genetic Disease Control in Animals (GDC) evaluates X-rays of dogs over the age of 1 year; and PennHIP assigns a measurement of hip laxity for any dog over the age of 4 months. Radiographs are taken by a veterinarian and submitted to one or more of these registries. A responsible breeder will use these tools to help select the best dogs for breeding. A responsible breeder will also discuss what you can do in terms of diet and exercise to help give your puppy the best chance for sound hips and elbows.
Cancer is another serious health concern for the BMD. Malignant Histiocytosis is an extremely virulent form of cancer that is always fatal, and most commonly strikes dogs between the ages of 4 to 6 years. It is hereditary, but the method of inheritance is not yet known. A responsible breeder will carefully research the family history of the potential breeding pair to avoid as much of this and several other types of cancer as possible. The Berner-Garde Foundation maintains a data base to help with this research. A responsible breeder will diligently research the health history of the families of dogs they are using for breeding, and will do everything necessary to produce the healthiest puppies possible.
Where should you look for a Berner puppy?
Don't look for a puppy: look for a responsible breeder. A pet shop is likely to be the worst place to go. Pet shop puppies come from breeding farms and from puppy producers who give little or no consideration for the long term welfare of their puppy crop. There is no contact between producers of pet store puppies and the people who buy them. These producers demonstrate no concern for the future welfare of the puppies they have produced.
On the other hand, responsible breeders seek appropriate homes for each offspring of their well researched breeding programs and encourage communication with the buyers of their pups throughout the dogs' lifetimes. Because producers have no long term interest in the puppies they produce, there is no need to research the health history of the family from which they breed. Responsible breeders, however, must have contact with the buyers in order to continue gathering data which helps them make good breeding decisions.
Becoming part of a responsible breeding program is smart. No one else is looking out for your best interests as a buyer. It is up to you to make educated decisions. AKC registration is not a seal of approval, nor is it a guarantee of quality. It simply means that the parents of the pup are supposedly purebred dogs. They can be the worst purebred dogs on earth, but if the producer has AKC registration for two dogs claimed as the litter parents, then the puppies can be registered, too.
Another bad choice for a purebred puppy is the owner who decided to let Fluffy have just one litter. Fluffy may be wonderful, but what about the sire to whom she was bred? Were Fluffy's and her mate's hips and elbows evaluated? How are their temperaments? What sort of health problems do the family backgrounds show? Fluffy's owner won't know.
A responsible breeder is your best chance to get a healthy, happy puppy. A responsible breeder spends a great deal of time and money finding the right bitch for breeding, constantly assesses the quality of potential sires, and constantly tracks the quality of the puppies produced from their breeding program. A responsible breeder welcomes questions and appreciates the opportunity to offer guidance to their puppy buyers. They X-ray hips and elbows, research pedigrees, and show dogs to ensure that they meet the breed standard for movement, temperament and appearance. Responsible breeders do the very best they can to produce the best puppies possible and find good homes for them — often at a financial loss.
The most important thing to remember when looking for a puppy is to find a breeder with whom you can communicate freely and whose ideas make sense to you. Read about the breed and learn all you can. Go to dog shows. Meet as many of their dogs as you can. Are the dogs shy? Assertive? Sweet-tempered? Refrain from approaching a breeder at a dog show just before they enter the competition ring, as they will be nervous and distracted. Wait until after the breed competition is finished.
Be honest with the breeders with whom you talk. If you have a serious interest in showing the dog, let them know. But if you aren't interested, or you're not sure, tell them that also. The only differences between a pet-quality or a show-quality dog may be cosmetic, but when breeders place a show-quality puppy, it is important for them to know the dog will be shown. If your preference is to do obedience or draft work, look for a breeder with experience in these areas. They can help select a puppy that may be best suited temperamentally for these efforts. And don't be discouraged by a waiting list. Getting the right puppy from the right breeder is well worth the wait.
Don't be overly impressed by the word "champion." All it means is that several different judges said that this dog was the best non-champion of its sex entered at a show. But showing dogs gives breeders the advantage of getting out to see the competition and see potential mates that will improve the structure and temperament of future litters.
If possible, you should try to see the breeder's kennel. How well kept is it? How clean are the dogs? How healthy do they look? Insist on meeting the dog that will be your puppy's mother (dam). The dam will have considerable influence over her pups. Is she shy or timid? What effect will this have on her puppies? Are the puppies being raised in the kennel, isolated from every day sounds and household hustle and bustle? Or are they being raised in the home and well socialized, given as many different experiences as possible?
Bernese Mountain Dogs occasionally wind up needing new homes. About 20 regional BMD clubs exist throughout the country, and each one has a rescue coordinator who works in re-homing Bernese who find themselves in such need. If you would be interested in giving your heart and home to one of these older dogs, contact the regional club in your area and let the rescue coordinator know of your interest.
There are many sources of information about the breed and breeders. If you are on the internet, there is the BMD home page, www.berner.org, packed with information and links to other sites, and addresses and contacts for regional clubs. These is also a mailing list with over 1000 members. You can learn a lot from this mailing list — the joys, sorrows and problems associated with the breed. Everyone is welcome to join.
Prices can vary a great deal for a purebred dog. But price shopping is not advisable. Although a high price does not ensure a good dog, a low price nearly always ensures that the breeder is not doing the health screening widely accepted and recommended. Corrective surgeries for hereditary orthopedic problems can cost thousands of dollars, and cause much pain for the puppy and heartache for you and your family. It is wise to minimize the risk of such misfortune by seeking a responsible breeder.
Be sure you understand any guarantees the breeder offers. Many guarantees are not worth much of the time they need to be exercised. Once a puppy has found a place in an owner's heart, it is not likely that the owner will return the pup for a refund. Offers in guarantees of a replacement puppy may not fit into an owner's lifestyle: after all, you asked for one puppy, not two! When a replacement puppy is offered, from what type of breeding stock will the second puppy come? Are you doubling up on your risk in obtaining a replacement puppy from parents who typically produce defective puppies? These are all things to consider when assessing guarantees.
Of course, the cost of owning any puppy doesn't stop with the purchase price. Vet bills, food, obedience classes should all be considered necessary expenses. Collars, leashes, brushes, nail clippers, shampoo, toys and treats are all additional expenses to be expected.
Recommended reading, all available from Dog & Cat Book Catalog at 1 (800) 776-2665:
"Your Purebred Puppy, A Buyer's Guide," by Michele Lowell
"The New Bernese Mountain Dog," by Sharon Chestnutt Smith
"The Beautiful Bernese Mountain Dogs," by Russ & Rogers
"The New Bernese Mountain Dog," by Malcolm Willis
"Good Owners, Great Dogs," by Brian Killcommons