By Jim LaFrom
©1999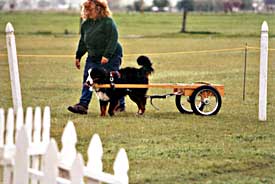 For as long as domestic dogs have been associated with humans, they have worked in a partnership that has lasted through the ages. Within most breeding programs, breeders try to produce litters that are healthy and conform to the AKC standard. Beyond those basic requirements, we also look to produce dogs that can actually do the work they were originally intended to perform.


In the olden days of Switzerland, these dogs were used to pull butchers carts, haul milk down from the hillsides to the dairy and then wheels of cheese and milk to market. There is even anecdotal evidence of these beautiful dogs hitched to carts, delivering mail through the small towns without benefit of human company.

By doing draft work with our dogs we continue to preserve the working abilities of our dogs and prove to ourselves that our breeding programs are indeed producing Working Dogs. These dogs LOVE to work and they will look forward to having a job to do.
---
How can we use these dogs to work in the modern world?
Your Berner can carry a small pack of his own food, and maybe some of your own personal items, while accompanying you in the backcountry.


If you are allowed to bring dogs to your college classes, you can have the dog carry a small backpack with a couple of books in it. This can be a great asset if you have disabilities or maybe an accident has temporarily hampered your activities.


A dog can pull a tarp attached to his pulling harness to transport yard clipping to the curb to be recycled.


Collect firewood in rural areas.


Berners can be used at the holidays or birthday parties to give small children rides in their cart.


Participate in holiday parades.


Participate in club-sponsored food drives, by going door-to-door with the dog and cart, to collect food for community outreach programs.


Use the dog and cart in pet therapy programs.
This is just the start of what kind of teamwork you and your dogs can participate in.
If you are looking for a more structured format in which your performance can be judged, try competing in one of the many formal BMDCA-sponsored draft tests that are held around the U.S. Check our calendar of events for upcoming scheduled tests.
---
How do we get started?
I would first like to acknowledge the huge amount of experience that the Newfoundland community has contributed to the establishment and refinement of much of the equipment as well as many of the techniques that all dog owners use today in draft work. Their generosity in sharing their experiences allows us all to enjoy working safely and efficiently with our dogs.
Probably the easiest way to do this is to join Sierra West BMDC or a regional club near you and participate in upcoming clinics, or search out mentors in other breeds in your area that also participate in draft work.
These breeds include Newfoundlands, St. Bernards, Great Pyrenees, German Shepherd Dogs, Rottweillers and some Australian Shepherd clubs. Siberian Husky and Alaskan Malamute clubs are involved with sledding over snow but do train during the summer months on wheeled carts.
Secondly, the "bible" of draft work is a book called "Newfoundland Draft Work, A Guide For Training," second edition by Consie Powell (1987). This is available from, wilczekwoodworksstore.com.
Thirdly, there is a video available through Dog Works Inc.(a catalog of drafting and sledding equipment) www.dogworks.com that has a step-by-step introduction to draft work that also showcases its products at the same time.
Fourth, Search Facebook for groups related to Dog Drafting or Dog Carting
---
Equipment needs:
The following comments are based on my experiences with personal usage as well as helping other people adjust their own setups.
Styles of harnesses

Parade or 'Road' Harness: This is the one most commonly found in most pet stores for around $15. Although it can be modified to be used with wheeled vehicles, it doesn't come with the secondary set of 'stopper' D-ring attachments. The D-rings or some other form of them are what are attached to the shafts on either side of the dog, at the broadest point of the upper arm, to provide resistance when backing up or coming to a stop on a downhill situation. These can be easily added with a commercial sewing machine or HD rivet machine. This harness can be used for beginners in training situations or rigs that use a travois or drag sheet as their vehicle.

Carting Harness: This is the standard harness that you will see the majority of dogs using. It comes in both nylon and leather versions. It has the required backup d-ring's to facilitate control and normally comes with traces, which are the leads which attach the harness to the vehicle. It is easily put on and taken off the dog. These harnesses come in sizes which makes it important to get a proper fit. Improperly fit or adjusted harnesses make it uncomfortable on your dog as well as impede its best efforts at pulling your load.

Siwash Harness: The Siwash harness is a style of harness that is akin to putting a form-fitting glove on your dog that make of a series of sewn nylon webbing. When first taken out of the box, it might make you wonder which end is up or if there is an up at all. Once you see it on the dog, you quickly see the benefits of this harness. Again this style of harness is made in a range of sizes so its important to get the right size for your dog. The equipment manufacturers have charts to assist you in this. The cons of this harness are that it is complicated for the first timer to put on and in a competition circumstance can lead to improper installation on the dog. The pros are that the harness evenly distributes the load across the chest and shoulder areas without impeding the front reach of the dog. The dog can better control his load without it feeling sloppy.

Freighting style Siwash: The freighting style Siwash harness is slightly different from the previous one in that it is used to control loads usually associated with sleds. Tarps and drags or wheeled vehicles with low attachment points. The differences are subtle yet important. The angle with which the traces project from the harness to the object being pulled are critical and using the wrong style for the wrong application can lead to a harness that bunches up and doesn't evenly distribute loads across the entire nexus of webbing. Another feature of this harness is that it usually incorporates a wooden spreader bar.
Styles of carts or wagons

Competition Carts


Two-wheeled carts


Sulky carts


Four-wheeled wagons


Radio Flyers


Travois
---
Training FAQ's
E-mail us with your questions and we'll add them to our list.
If you are interested in obtaining the current draft test regulations for Bernese Mountain Dogs, see BMDCA Draft Regs
and for information on BMDCA draft tests, see http://www.bmdca.org/Draft/index.php
Several equipment suppliers and more information may be found at the following websites: