November 6, 2021 Regional Specialty
Held in conjunction with Woofstock at the Solano County Fairgrounds in Vallejo.
Join us for wonderful trophies, morning hospitality, raffle items and baskets and a ring-side luncheon (for purchase below).
Judge: Mrs. Georgeann Reeve
Sweeps Judge: Christine McLean
Superintendent: MB-F www.infodog.com
Entries close October 13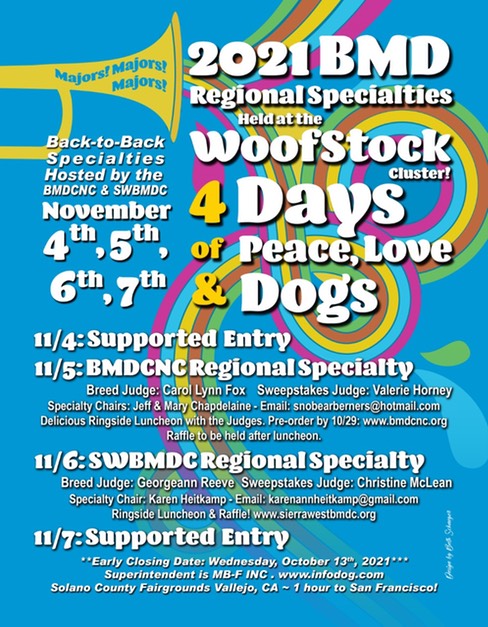 Enter at www.infodog.com
Plan to join us for the entire Woofstock cluster November 4-7
BMDC of Northern California supported entry Nov 4 and specialty Nov 5
Sierra West BMDC specialty Nov 6 and supported entry Nov 7

---
Order lunch and donate for trophies online via PayPal:
When you click on the first "Add to Cart", a new tab will open showing your cart. If you leave this open and return to this page, as you click to add more items, they will add without switching you to see the cart. Click on that tab or the ViewCart button to view what you have added at any time or when you are ready to checkout and pay.
Ring-side Lunch on Saturday, November 6
Held after judging is complete
Three choices of sandwich (grilled chicken, Tri-tip or grilled vegetable) on a soft hoagie roll. Sandwiches come with a variety of salads, dessert and drinks.
---
Trophy Donations
---
---
---
---
---
---